What is GSE Media Player?
GSE (Generic Stream Engine) is a media player application that is available for various platforms, including iOS, Android, and macOS. It supports multiple video and audio formats and provides an easy-to-use interface for playing live TV channels and VOD (Video on Demand) content.
It is available in both Android and iOS devices.
We will set IPTV in GSE App using Xtream-Codes API here, also there is another way to set IPTV in GSE App.
How to setup IPTV on GSE via Remote Playlist?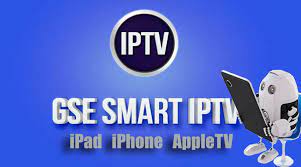 The Advantages of using Xtream-Codes API to setup GSE App:
Xtream-Codes API is an IPTV (Internet Protocol Television) middleware that allows IPTV providers to manage their content and subscribers. GSE can be set up to use the Xtream-Codes API to access IPTV channels and VOD content. This allows users to watch live TV channels and stream VOD content directly through the GSE app.
By setting up GSE via Xtream-Codes API, users can have access to a wide range of IPTV channels and VOD content from various IPTV providers. It provides an easy-to-use and convenient way to enjoy IPTV content on your device.
If the IPTV provider present Catch-up feature, you will have this option in Xtream-Codes API like MAG portal system.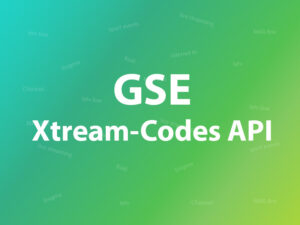 You can download this app via the link below:
Android devices:
https://apkpure.com/gse-smart-iptv/com.gsetech.smartiptv
iOS:
https://itunes.apple.com/us/app/gse-smart-iptv/id1028734023?mt=8
How to add IPTV channels to GSE using Xtream-Codes API
Step 1: Start by downloading the GSE IPTV App from Google Play Store and on the top left you have the options (three lines).
Click on "Xtream-Codes API".
Step 2: On the down right corner click on the red circle.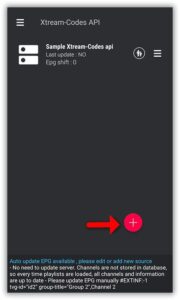 Step 3: Select a name for the IPTV list, you can choose any name for example "MY IPTV".
Enter Server name, Username and Password , you can find all these details in the M3U url which your IPTV provider send.
After finishing entries click on "Add".
How to find Server Address, Username and Password?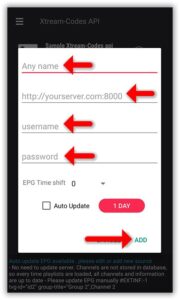 Step 4: Now you will find your "IPTV list" in the menu, click on it.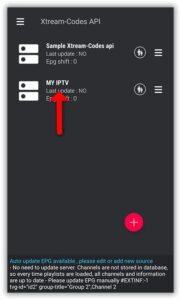 Step 5: Wait for the channels to be added to your application and this might take a little time depending on which countries or channels groups your M3U file contains.
You will see the LIVE channels and VOD list.
Step 6: By click on LINE you will see the channel groups.
Select the channel that you want to watch and click on "Play".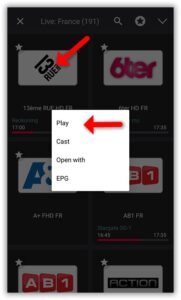 Now you GSE Android app is ready for streaming IPTV channels on your Android device.
How to load EPG in GSE using Xtream-Codes API
Step 1: You can easily add EPG in GSE by clicking on "INSTALL EPG DATA"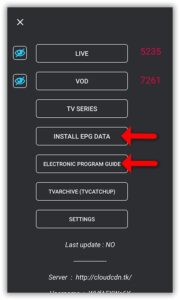 Step 2: Wait until the EPG data downloading after that you can see the EPG list by click on "ELECTRONIC PROGRAM GUIDE" .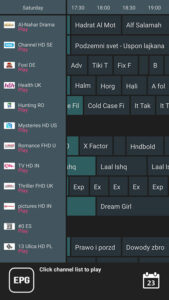 ---
Great Premium IPTV Subscription
Great IPTV is the best IPTV provider with more than 10,000 channels and more than 40,000 VOD a private server using +10Gbps Network, we at Great Premium IPTV are looking forward to Help All IPTV Users to enjoy their IPTV Subscription, we have best Premium IPTV Subscription Which you can BUY Great IPTV Subscription From Here.