What is IPTV?
IPTV stands for "internet protocol television." The "IP" in IPTV is the same as the one in your IP address or VoIP (voice over IP). All that means is television programming is being communicated using the internet protocol.
It also means you can watch your favorite TV shows from computers, laptops, and mobile devices instead of having to camp out in front of the tube.
For those who also want to watch internet protocol television on their actual TVs (which is likely most of us), you'll either need to:
Upgrade to a smart TV: The newest TV models (known as "smart TVs") come purpose-built for streaming content via internet protocol. No add-ons necessary.
Purchase a set-top box: If you own a regular TV, you'll need a device that converts streaming signals into a format it can actually read, whether that's an Apple TV or USB dongle stick like Google Chromecast.
In terms of set-up, an at-home IPTV system without a smart TV typically includes:
A wireless internet connection

A router that connects to a set-top box or USB dongle stick

A set-top box or USB dongle stick to convert IPTV signals into TV-friendly ones

Other digital devices (like smartphones and tablets) that can access IPTV directly
Just because the end-user experience is fairly straightforward doesn't mean the technology behind IPTV isn't complex.
From the broadcaster's perspective, IPTV requires an advanced storage system for videos as well as an intuitive and user-friendly interface where viewers can choose which programs they want to watch.
Once someone selects a program, an IPTV broadcaster must:
Encode the video file in a format suitable for streaming.

Encrypt the video file so only people who've paid can decode and receive it.

Embed advertisements into the video file (typically if the program is free).

Stream the video file across the internet to hundreds (potentially thousands) of people.
An IPTV content provider also needs ample bandwidth to power high-quality video streaming at scale, particularly if they plan to advertise.
Do You Need a Set-Top Box for IPTV?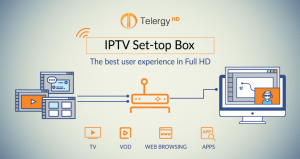 Because most older TVs aren't equipped for IPTV, you may need a set-top box like Apple TV, Roku, and Amazon Fire TV that "translates" what you receive over your internet connection into a format that your TV can read.
In other words, set-top boxes translate the language of the internet protocol. These boxes are often connected to the TV via HDMI or AV cables or even through Wi-Fi for newer models.
Your computer, on the other hand, doesn't need anything to watch IPTV. Once you sign up for a service, you can use it to live stream whatever you want in any of the IPTV formats (which we'll discuss next).
So if you can mirror your screen to your TV, you can watch IPTV without a set-top box.
New Smart TVs also can come with built-in IP support that can be connected to your network and set up to use IPTV services.
Hybrid IPTV
The high demand for internet-based streaming services and on-demand shows led to the rise of a new, hybrid IPTV business model. Hybrid IPTV proved the perfect way for traditional broadcasters to transition to a more contemporary business model.
IPTV requires a great deal of bandwidth to transmit a ton of data at high speed.
The hybrid IPTV model allows users to watch linear TV and on-demand content with a single set-top box. This model's most significant benefits are its flexibility and affordability since neither users nor providers need to constantly change their infrastructure.
In addition to standard cable TV, people with hybrid IPTV services can enjoy Video On Demand (VOD) and live pay-per-view streaming.
Types of IPTV Formats


IPTV offers many additional services and video formats beyond just watching traditional television broadcasts. There are three primary content formats most IPTV services offer:
Live TV
Live IPTV allows users to live stream television broadcasts in real time, similar to traditional TV. Live TV most often serves to broadcast live events like sports events, conferences, etc . it's easy to stream a game on your phone while you're on the go.
Other than being broadcast over the internet instead of through traditional cable TV media, live IPTV is pretty much the same as regular TV.
Some examples of IPTV providers with this model include FOX Sports Go, Hulu Live TV, Sling TV, and CBS Sports HQ.
Video on Demand (VOD)
VOD IPTV services work the same way as with most OTT providers — you pay a subscription fee and, in return, have access to a large library of videos you can request to watch whenever.
This model is particularly appealing to consumers because it offers incredible flexibility. More and more IPTV providers have been introducing on-demand services to combat the growing popularity of over-the-top streaming platforms like Netflix, Hulu, and Amazon Prime Video.
Time-Shifted TV
Time-shifted TV or catch-up TV is a service unique to IPTV that allows users to watch previously broadcasted TV shows later.
The important difference between time-shifted media and VOD is that the content being shared has a limited shelf life. You can't go back and watch an episode of a show that you missed several years ago (well, you could, but it would be VOD then).

Starting Your Own IPTV Service – IPTV Providers
If you're interested in starting your own IPTV service, your best bet is to hook up with one of these service providers. They have the bandwidth, server capacity, and distribution channels that you need.
GreatIPTV.org is the best provider.
All you need to do is sign up, choose a plan, and start uploading your content. What sort of content? Who will watch it? How will you make money? All of those things are up to you.
Great IPTV Premium Subscription
Great IPTV is Premium IPTV provider with more than 12,000 channels and more than 9,700 VOD a private server using +10Gbps Network, we at Great IPTV are looking forward to Help All IPTV Users to enjoy their IPTV Subscription, we have Premium IPTV Subscription Which you can BUY Great IPTV Premium Subscription From Here