ProgTV is a free IPTV player and digital TV software for Windows computers and Android mobile devices. It allows users to watch live TV channels and streams from various sources, including internet-based IPTV services, digital TV tuners, and other sources that provide a video stream over IP networks.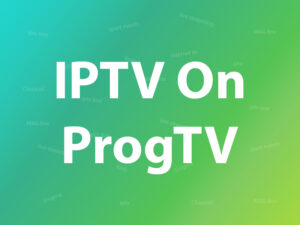 ProgTV supports popular playlist formats such as M3U, M3U8, and XMLTV, and it provides advanced features such as channel recording, program scheduling, and time-shifting capabilities.
ProgTV is a user-friendly application that offers an intuitive interface and customizable settings to enhance the viewing experience. It is a popular choice for cord-cutters and IPTV enthusiasts who want a versatile and reliable IPTV player.
You can download this app from the Google Play Store via link below:
https://play.google.com/store/apps/details?id=com.progdvb.progtva&hl=en_US
How to add IPTV channels to ProgTV app
Step 1: On the main menu of the application, select "TV Sources" and proceed to the next step.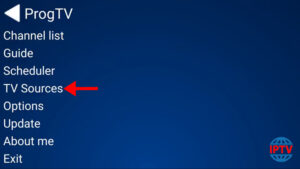 Step 2: Now select "IPTV Client" as depicted via a red arrow in the below picture.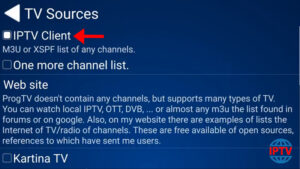 Step 3: Now you must enter your M3U URL in the "Playlist" section and insert your EPG URL in the "Codepage" section. What is M3U?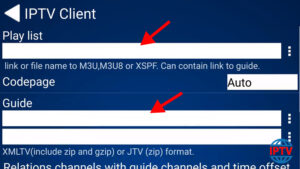 Step 4: Now head back to the main menu and select "Channel list" and the channels you just added will appear.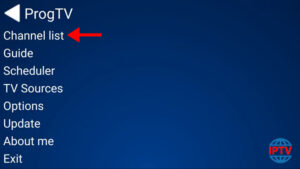 Please note, this application is also available on Windows phone and the installation procedure is exactly the same as we demonstrated in this article.
Features and functions of ProgTV app
ProgTV is a feature-rich IPTV player that offers various functions and capabilities for watching live TV channels and streams. Some of the notable features and functions of ProgTV include:
Support for various playlist formats such as M3U, M3U8, and XMLTV.
Automatic channel list updates for IPTV services that support EPG.
Advanced filtering options to sort channels by categories, languages, or countries.
Time-shifting functionality to pause, rewind, or fast-forward live TV programs.
Built-in program guide with detailed information about upcoming shows and events.
Support for multiple audio and subtitle tracks for international channels.
Recording and scheduling capabilities to save TV programs for later viewing.
Parental control features to restrict access to adult content or inappropriate channels.
Customizable user interface with various skins and themes to choose from.
Integration with external devices such as digital TV tuners and remote controls.
Overall, ProgTV is a comprehensive and versatile IPTV player that provides users with a high-quality TV viewing experience on their Windows computers or Android mobile devices.
TimeShift
Record.
Scheduler.
Subtitles.
Information about channel format.
The interface is optimized for the phone, a pad, and TV (include remote control using).
Support of more one channel list in same time.
Favorites list.
Per channel zoom and ratio settings.
Equalizer, AGC, Spectrum.
Folder for user logo of channels.
---
Great Premium IPTV Subscription
Great IPTV is Premium IPTV provider with more than 12,000 channels and more than 9,700 VOD a private server using +10Gbps Network, we at Great IPTV are looking forward to Help All IPTV Users to enjoy their IPTV Subscription, we have Premium IPTV Subscription Which you can BUY Great IPTV Premium Subscription From Here