In today's fast-paced digital landscape, entertainment options have expanded beyond traditional cable television. Internet Protocol Television (IPTV) is rapidly gaining popularity, offering a convenient way to access a wide range of channels and content through an internet connection. AVOV TVOnline Box is a popular device that allows users to enjoy IPTV seamlessly. In this guide, we will walk you through the step-by-step process of setting up IPTV on your AVOV TVOnline Box for an enhanced viewing experience.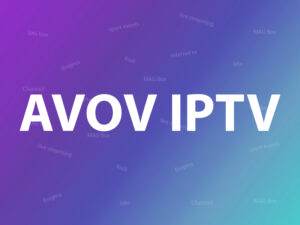 Introduction to AVOV TVOnline Box and IPTV
AVOV TVOnline Box is a versatile device that transforms your regular television into a smart entertainment hub. IPTV delivers television content over the internet, offering a more flexible and customizable viewing experience compared to traditional cable or satellite TV.
Preparing for IPTV Setup
Before diving into the setup process, ensure you have the following:
AVOV TVOnline Box
Stable internet connection
Active IPTV subscription
HDMI cable
Television set
Connecting AVOV TVOnline Box to Your Television
Connect the AVOV TVOnline Box to your TV using an HDMI cable. Power on both devices and ensure they are properly connected.
Configuring Network Settings
Access the system settings of your AVOV TVOnline Box and connect it to your Wi-Fi network or router using an Ethernet cable.
Setting Up IPTV on AVOV TVOnline Box
Accessing the System Settings
Navigate to the main menu and find the "Settings" option. Select "System" to access the system settings.
Navigating to the IPTV Section
Within the system settings, locate the "IPTV" section. This is where you will input the necessary details to set up your IPTV service.
Entering IPTV Server Details
Enter the provided IPTV server URL, username, and password. These details are typically provided by your IPTV service provider. How to find Server Address in M3U Url?
Saving and Activating IPTV Channels
Save the entered server details and exit the settings. Your AVOV TVOnline Box will now connect to the IPTV server and retrieve available channels.
How to add IPTV channels to AVOV
Step 1: Start by clicking on the "Live TV" icon from the main menu. If you are doing this for the first, it will bring you to the server setting section. If the server setting section doesn't appear automatically, follow the below steps.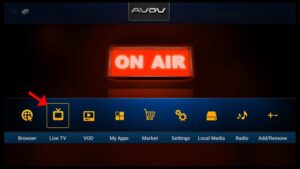 Step 2: Go to the "Settings" section from the main menu.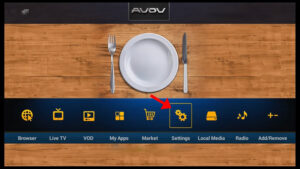 Step 3: Now select "SERVER SETTING" and proceed to the next section.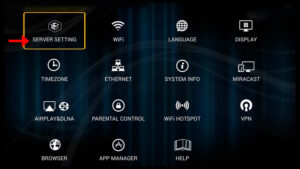 Step 3: Now in the "Server Name" insert a name and it can be anything you want in the "Server URL" insert the postal address which can be obtained from your IPTV provider and then click on "Connect". Your device's Mac address must be registered inside the IPTV provider server.
Please note, you can also use a username and password inside your m3u line and connect to the servers. However, using the MAG portal is way simpler.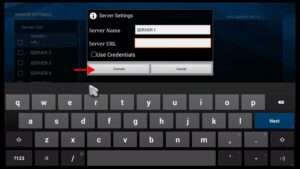 Step 4: You can see now that the channels are being loaded to your set up box.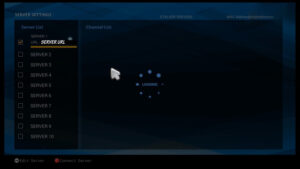 Step 5: Now head back to the main menu and click on the "Live TV" icon.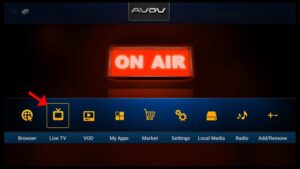 Step 6: You can now click on any channel based on each category and start watching live channels.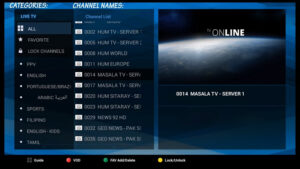 Exploring IPTV Features on AVOV TVOnline Box
Channel Surfing and EPG
Use the remote control to navigate through the channel list. The Electronic Program Guide (EPG) will display program schedules for easy content discovery. What is EPG?
Video on Demand (VOD) Library
Explore the Video on Demand section to access a library of movies and shows. Enjoy on-demand entertainment at your convenience. What is Video on Demand?
Catch-Up TV Functionality
Missed your favorite show? Many IPTV services offer catch-up TV, allowing you to watch previously aired content.
Troubleshooting Common Issues
If you encounter buffering or playback issues, check your internet connection and ensure your AVOV TVOnline Box is updated with the latest firmware.
Optimizing Your IPTV Experience
Enhance your experience by connecting your AVOV TVOnline Box to a high-speed internet connection and using an Ethernet cable for stable connectivity.
Conclusion
Setting up IPTV on your AVOV TVOnline Box opens the door to a world of entertainment possibilities. Enjoy the flexibility of IPTV, access to various channels, and the convenience of on-demand content.
FAQs (Frequently Asked Questions)
Can I use any IPTV subscription with AVOV TVOnline Box?

Yes, as long as your IPTV service provider supports the AVOV TVOnline Box, you can use their subscription.

What is the advantage of catch-up TV?

Catch-up TV allows you to watch shows and programs that you missed at their scheduled airing time, adding convenience to your viewing experience.

Are software updates important for my AVOV TVOnline Box?

Yes, regular software updates ensure optimal performance, security, and access to new features.

Can I watch IPTV on multiple devices simultaneously?

Some IPTV subscriptions allow multi-device usage. Check with your provider for specific details.

Is a wired or wireless connection better for IPTV?

A wired Ethernet connection provides more stable and consistent streaming compared to wireless, which can be affected by signal strength and interference.
---