IPTV Smarters is a popular application used for streaming live TV channels, movies, TV shows, and other media content over the Internet. It is designed specifically for IPTV (Internet Protocol Television) services, which deliver television content through Internet Protocol (IP) networks.
website:
IPTV Smarters website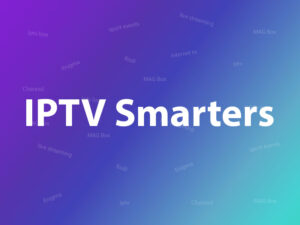 IPTV Smarters provides a user-friendly interface that allows users to access and enjoy IPTV services on various devices such as smartphones, tablets, smart TVs, and streaming boxes. The application supports different features, including live TV streaming, video on demand (VOD), electronic program guide (EPG), catch-up TV, and more.
With IPTV Smarters, users can typically connect to an IPTV service provider by entering their login credentials and server details. The application then fetches the available channels and content from the IPTV service provider and presents them in an organized manner, allowing users to navigate and watch their desired programs.
It's important to note that IPTV Smarters itself is not an IPTV service but rather a client application that works in conjunction with IPTV service providers. Users need to subscribe to an IPTV service and obtain their login credentials to use the application effectively.
Please keep in mind that the availability and legality of IPTV services may vary by country, so it's essential to ensure that you are using IPTV services and applications in compliance with the applicable laws and regulations in your region.
How to add IPTV channels to IPTV Smarters on Windows
Step 1: As we mentioned on top you can download IPTV Smarters directly from their website, here it's the direct download URL:
https://www.iptvsmarters.com/#downloads
Step 2: After installing and launching the software, please try to "ADD NEW USER".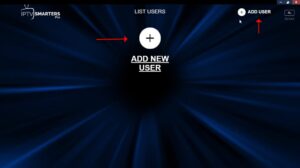 Step 3: Now you need to enter login details. Select and enter "Any name" you want in the first blank. And fill Username, Password, and Server URL easily from the M3U URL.
The progressive IPTV providers give you a dashboard in which you can access your M3U URL in dashboard.
How to find Server Address, Username, and Password?
Click on ADD USER.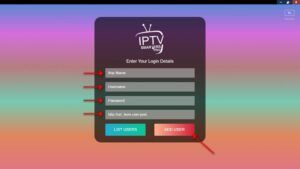 Step 4: After login, easily click on "LIVE TV".
In this step, you can see the expiration date of your subscription at the bottom of the page.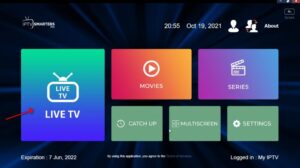 Step 4: Select the bouquet and Play the desirable channels.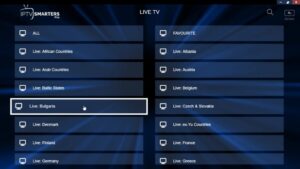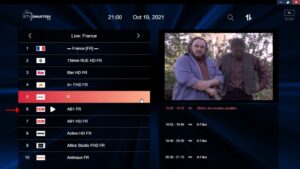 IPTV Smarters features
IPTV Smarters offers a range of features that enhance the IPTV viewing experience. Here are some of its notable features:
Live TV Streaming: IPTV Smarters allows users to stream live TV channels from their IPTV service provider. It supports various streaming protocols, including HTTP, HSL, M3U8, RTMP, and more.
Video on Demand (VOD): The application enables users to access a library of on-demand content, such as movies, TV shows, and recorded programs. Users can search for specific titles or browse through categories to find their preferred content.
Electronic Program Guide (EPG): IPTV Smarters integrates an EPG that provides a schedule of upcoming programs for each channel. Users can view program details, set reminders, and switch between different channels seamlessly.
Catch-up TV: Some IPTV service providers offer catch-up TV functionality, allowing users to watch previously aired programs that they might have missed. IPTV Smarters supports catch-up TV features if provided by the IPTV service.
Multi-Screen Support: The application is compatible with various devices, including smartphones, tablets, smart TVs, and streaming boxes. Users can enjoy IPTV services on multiple screens with a consistent user interface.
Multi-Player Support: IPTV Smarters supports multiple players, including an internal player and external media players like MX Player, VLC, and others. Users can choose their preferred player for streaming content.
Parental Controls: The application offers parental control features, allowing users to set restrictions on certain channels or content categories. This feature helps parents ensure that their children access appropriate content.
Favorites and Playlists: Users can create personalized lists of favorite channels and organize them into playlists for quick and easy access.
Multi-Language Support: IPTV Smarters supports multiple languages, making it accessible to users worldwide. The application interface can be displayed in different languages, and it can handle content with various audio tracks and subtitles.
User Management: The application allows users to manage multiple IPTV subscriptions within the same interface. Users can add, edit, or remove multiple IPTV service providers and switch between them effortlessly.
These are some of the key features of IPTV Smarters. However, it's important to note that the specific features and functionalities may vary depending on the IPTV service provider and the version of IPTV Smarters being used.
---