In this comprehensive guide, we will walk you through the process of setting up IPTV on Lazy IPTV, a popular IPTV player for Android devices. IPTV, or Internet Protocol Television, allows you to stream live TV channels and on-demand content over the Internet. Lazy IPTV is known for its user-friendly interface and flexibility, making it a preferred choice for many IPTV enthusiasts. Whether you're a beginner or an experienced user, follow our step-by-step instructions to enjoy your favorite TV shows and movies hassle-free.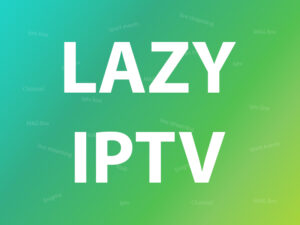 What is Lazy IPTV?
Lazy IPTV is a user-friendly application designed for IPTV enthusiasts who want to enjoy their favorite television content on their Android devices. It offers a seamless way to watch live TV, movies, and series, and an internet connection. Lazy IPTV stands out for its simplicity and customization options, making it an excellent choice for both beginners and experienced IPTV users.
You can download this app via the link below:
https://play.google.com/store/apps/details?id=com.lazycatsoftware.iptv&hl=en_US
How to add IPTV channels to Lazy IPTV
Step 1: To add your M3U URL, start by clicking on "New Playlist" and then select "From Internet(by URL)".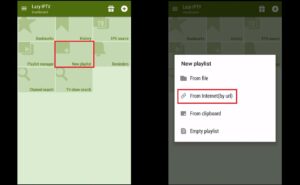 Step 2: Here you must give a name to your playlist inside "playlist's name" Paste your M3U link inside the "path to playlist file or url" and click on save.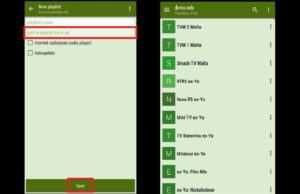 Step 3: Your playlist should be added now. You can select a group and select a channel to start your TV session.
Features of Lazy IPTV
User-Friendly Interface: Lazy IPTV boasts an intuitive and easy-to-navigate interface, making it accessible to users of all technical levels.
Custom Playlist Management: Users can create and manage their own custom playlists, allowing for a tailored IPTV experience with favorite channels and content.
EPG Support: Electronic Program Guide (EPG) integration provides users with program schedules, making it easier to browse and select content. What is EPG And what are its features?
Time-Shift Functionality: Lazy IPTV enables time-shifted viewing, allowing users to pause, rewind, or fast forward live TV, providing greater control over their viewing experience.
Recording Capabilities: Users can record live television shows and movies, ensuring they never miss their favorite programs.
Multiple Device Support: Lazy IPTV can be used on various platforms, including Android devices, providing flexibility for users with multiple devices.
Customization Options: The application offers numerous customization options, such as changing the app's appearance, arranging channel orders, and more.
Parental Control: For added security and content filtering, Lazy IPTV includes parental control features, allowing parents to restrict access to certain content based on age appropriateness.
Smooth Playback: Lazy IPTV is designed for reliable and uninterrupted streaming, ensuring a smooth viewing experience.
Compatibility: Lazy IPTV is compatible with a wide range of Android devices, making it accessible to a broad user base.
These features collectively make Lazy IPTV a popular choice among IPTV enthusiasts, offering a versatile and enjoyable way to access and customize television content over the internet.
Frequently Asked Questions (FAQs)
What is IPTV?
IPTV, or Internet Protocol Television, is a technology that delivers television content over the Internet, offering a more flexible and customizable viewing experience compared to traditional cable or satellite TV.
Is Lazy IPTV compatible with Android devices?
Yes, Lazy IPTV is compatible with Android devices, making it accessible to a wide range of users.
Can I record shows on Lazy IPTV?
Absolutely! Lazy IPTV allows you to record live TV shows and movies, giving you the flexibility to watch them at your convenience.
How do I update Lazy IPTV?
You can update Lazy IPTV by visiting the Google Play Store and checking for app updates. Make sure to keep your app up to date for the best experience.
Is Lazy IPTV legal?
Lazy IPTV itself is a legal application. However, the legality of the content you access through IPTV services may vary by region and licensing agreements. Ensure you are using Lazy IPTV to access legal and licensed content.
Conclusion
Lazy IPTV is a versatile and user-friendly application that simplifies the IPTV experience. With its customization options, EPG integration, and time-shift capabilities, Lazy IPTV offers a comprehensive solution for anyone looking to enjoy IPTV on their Android device. Download Lazy IPTV today and unlock a world of entertainment at your fingertips.
---
Great Premium IPTV Subscription
Great IPTV is the best IPTV provider with more than 10,000 channels and more than 40,000 VOD on a private server using a +10Gbps Network, Great IPTV at Great Premium IPTV is looking forward to Helping All IPTV Users to enjoy their IPTV Subscription, Great IPTV the best Premium IPTV Subscription Which you can BUY Great IPTV Subscription From Here.